Energizing for the win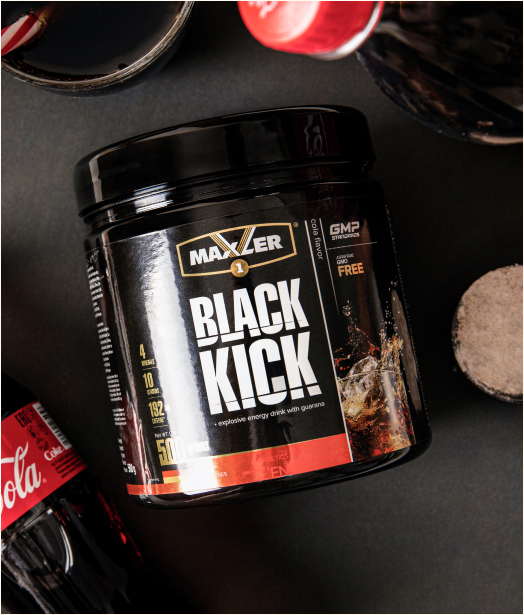 with сaffeine and guarana extract
enhanced performance
enriched with vitamins and minerals
Ever feel tired and want a pick-me-up before a workout? Not feeling like completing your daily run? Sometimes, you need a little boost to get your heart going and your energy levels high before a particular event, and that's where Black Kick comes in.
Black Kick is a powder used to make sports drinks. Blending high-quality ingredients, Black Kick provides you with the energy you need during your workout. So, what makes Black Kick so great?
Caffeine & Guarana – a super combination
Black Kick contains 200 mg of caffeine in each serving. Caffeine helps make you feel less tired and increases your mental performance if you play any sports requiring a quick reaction. Alongside caffeine, Black Kick contains guarana which is a Brazilian plant. Guarana contains natural caffeine and theobromine, which is a compound also found in cocoa that helps energize the body.
Guarana is full of antioxidants and improves your brain function as well as supports recovery after exercise.
A sports drink designed for optimal hydration
Increasing your energy is half the task – a sports drink needs to effectively rehydrate, as water on its own doesn't get absorbed as quickly as needed during sport. That's why Black Kick contains carbohydrates, to ensure your glycogen is being replenished as you exercise, as well as the key minerals you lose with sweat.
On top of that, Black Kick contains vitamins you lose through sweat, like vitamin C. Vitamin C helps you recover from exercise. Vitamin E helps with recovery and assists in repairing your muscles. Vitamins B1, B5, and B6 all work together to help release energy from food. Vitamin B12 also assists in making hemoglobin, ensuring your red blood cells are delivering oxygen throughout your body efficiently for great results.
So, if you're looking for a great energizer which helps your body perform its best in the gym or on the court, Black Kick is exactly what you need.