Take the worry out of your routine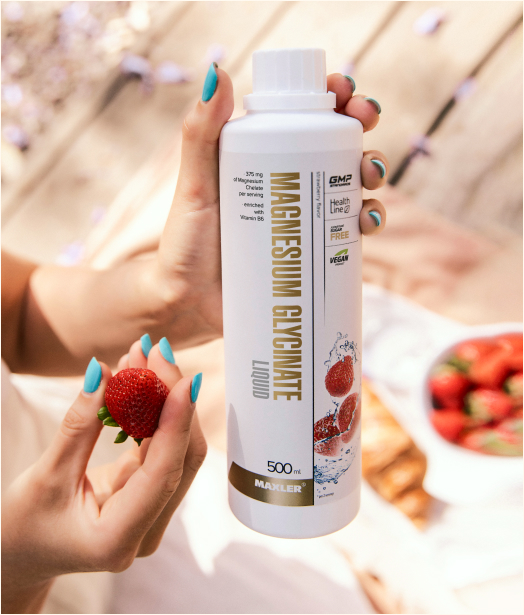 regulates nervous system
supports bone and muscle health
with added vitamin B6
Micronutrients play varied but essential roles in our health. The vitamins and minerals we get from our food help our cells function well, ensuring all the processes go smoothly. There's one particular mineral that is important for our cells, supporting over 600 reactions. That's magnesium.
Caring for your whole body
Magnesium is very versatile in its functions, so it's no wonder it can support:
Cardiovascular health – it helps keep blood sugar and fat levels in check and is great for blood pressure and heart rhythm control.
Bone and muscle function – it helps keep bones strong and promotes muscle relaxation, which is great for recovery.
Nervous system – it helps us deal with stress better, supporting a good mood and a better quality of life.
Sleep – it helps us produce GABA, which is a neurotransmitter involved in relaxation.
Normal metabolism – magnesium takes part in processes like carbohydrate metabolism and protein formation, so getting enough is crucial.
Managing inflammation – it helps decrease oxidative stress, which helps quell inflammation.
When we pair it with vitamin B6, as we've done in this formula, we absorb magnesium better. Plus the two work together, and are especially great for the nervous system and your sleep. We've also used the best form of magnesium – magnesium bis-glycinate, which is readily absorbed by our body. Magnesium Glycinate Liquid is an easy and delicious way to get your magnesium to help you feel and function your best.
Magnesium Glycinate Liquid contains magnesium bis-glycinate chelate, which has the highest bioavailability among the forms of magnesium, and vitamin B6 in the product enhances the effect of the mineral. As a bonus, the supplement has an amazing strawberry flavor that everyone will love!