Complete amino acid complex for better workouts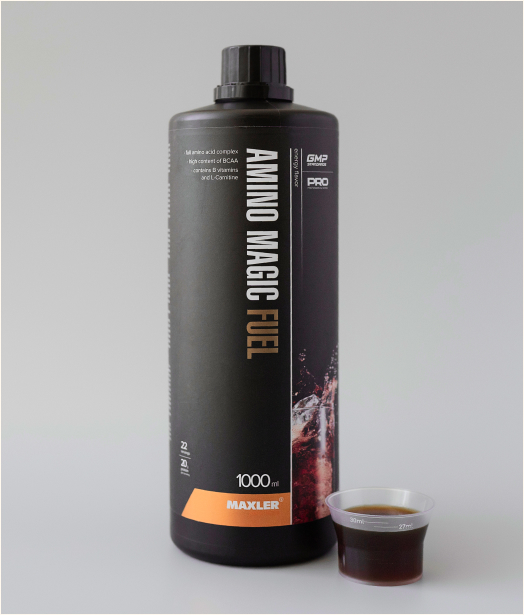 full amino acid complex
high content of BCAA
contains B vitamins and L-Carnitine
Amino Magic Fuel is a complete amino acid complex on the basis of whey protein hydrolysate with high content of BCAA, vitamins and L-Carnitine. Thanks to a liquid form that helps to speed the absorption of amino acids and high concentration of protein (40%) Amino Magic is a unique product in quality and action.
What's so good about Maxler Amino Magic Fuel?
Amino acids are part of everyday metabolism, but they are of special interest to athletes. Both essential and non-essential are integral part of any sport-related goal fulfillment and cover many bases:
Help replenish what was lost during an intensive workout;
Fight muscle breakdown;
Act as building blocks that the organism can use to build up muscles.
High digestion speed (10-15 minutes after the intake) allows you to create a so-called "pool of free amino acids" that stimulates anabolism – muscle growth, immune system, metabolism and regenerative processes. Elevated levels of branched chain amino acids (BCAA) fill up intracellular energy reserves by helping the cells take in glucose from blood.
Amino Magic Fuel allows to restore microelements level
During intense workouts you lose water and microelements are lost with it. Rich vitamin and mineral complex in the formula compensates for the loss of micro elements with dehydration as well as promote overall health. And L-Carnitine is an amino acid, a vitamin-like substance used by the body to produce energy from free fatty acids.
This supplement is more than just an amino acid complex. Containing L-carnitine and a B-vitamins complex the formula powers you up even more!
Amino Magic Fuel is suitable for use by beginners and professional athletes alike. Make it a part of your diet, and you will appreciate its "magical" action and excellent taste!