Hydrating with a twist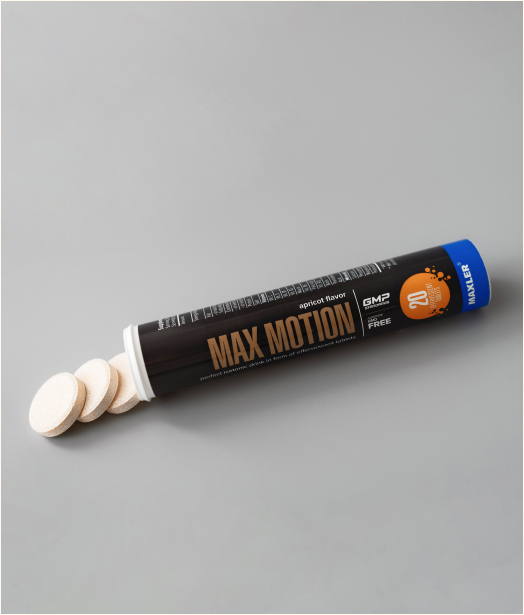 can serve as an isotonic drink
promotes recovery after workout
Ensuring you're on top of your game means ensuring you're getting the water that you need. During exercise, you start sweating, and the sweat you secrete contains micronutrients you may not be aware you are losing. This can include things like vitamins and minerals. This is especially the case for water soluble vitamins, like vitamin C and vitamins B1 and B2s. So, how do you go about ensuring that you're keeping their amounts where they should be? – You might consider using an isotonic drink during a workout.
Max Motion effervescent tablets – a fizzy aid
Max Motion effervescent tablets takes isotonic drinks to a new level. The tabs dissolve in water to transform your water into a tasty and useful isotonic drink. Max Motion tabs add the following nutrients to your water bottle:
Vitamin C – helps in recovery and with fighting against oxidative damage induced by exercise. It's important to replenish it as you tend to lose a lot of it through sweat.
Vitamin E – a helper in repairing skeletal muscle, it can decrease the damage free radicals do to your cell membranes.
Vitamins B1, B2, B6 – these are key for producing energy, and you need more of them when you exercise.
Minerals like calcium are important for muscle contractions and nerve signaling.
Max Motion effervescent tablets are for those that like to have an isotonic drink in an easily accessible form. Pop a few tablets in your own water bottle to create a light and fruity drink designed to improve recovery. Gone are the days of buying bottles of sports drinks – the power is in your hands!