Excellent protein to fit every lifestyle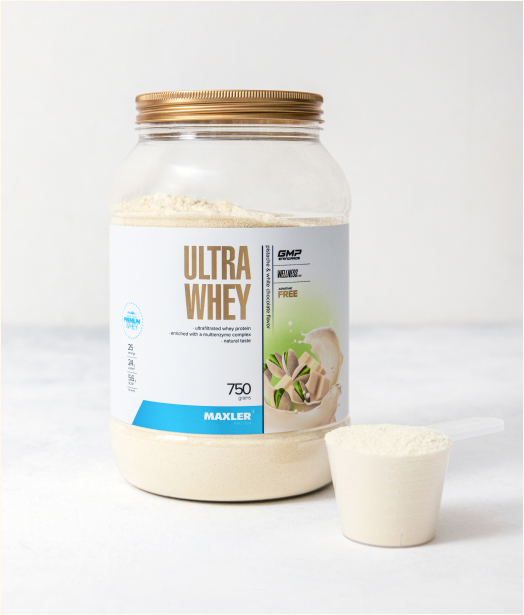 contains 22 g protein per serving
enriched with a multienzyme complex
full spectrum amino acids
The human body cannot exist without proteins and amino acids. It needs proteins to build muscle, for a healthy hormone balance and for enzymes that help speed up metabolism. However, our body cannot produce proteins itself and must therefore ingest them through protein-rich food.
Best ingredients for best results
Ultra Whey is an 80% whey protein formula that utilizes the most natural sources of the highest quality, which allows the body to absorb and utilize protein faster. It is derived from the best milk from grazing cows, is modest in fat and moderate in carbohydrates. 9 essential amino acids in Ultra Whey help to build lean muscle and allow for speedy recovery.
9 essential amino acids can provide for many needs:
Isoleucine, leucine and valine aid in recovery, and together form a complex widely known as BCAAs. BCAAs are absorbed directly into the muscle tissue, helping to stitch them up after rigorous training.
Histidine reacts with beta-alanine to create L-carnosine, an essential compound for anyone wishing to train tirelessly because it reduces lactic acid build-up, which makes it hard to ensure long training sessions in the gym.
Lysine is 1/3 of the components necessary to build collagen, a protein responsible for bone and muscle tissue growth, elastic skin, healthy hair & nails.
Methionine helps to create other amino acids and is involved in breakdown of fats.
Phenylalanine, along with tyrosine, helps to synthetize dopamine and serotonin – happiness hormones.
Threonine, similarly to lysine, supports the immune system helping to generate antibodies, which allows it to cope with infections better.
Tryptophan together with protein promotes physical vigor.
All amino acids are embedded in all important processes in the body, but their combination with physical activity has a unique effect on muscle growth – because muscles are almost entirely composed of protein, which in turn is composed of amino acids.
Ultra Whey is easily digested due to multienzyme complex DigeZyme®. What is more, this protein shake powder has an array of amazing flavors to satisfy everyone's tastes. So that each protein shake feels like a reward for all the effort invested in achieving success: sweet and tasty but not sugary, satiating but light, reliable but never boring.
Your muscles need nutrition, rest and recovery as much as you do. Ultra Whey formula can provide the first, the third and contribute to the second – all without much ado. Ultra Whey is perfect for athletes and just active people who care about their health and nutrition and require a flawless protein source.