Introducing efficient skincare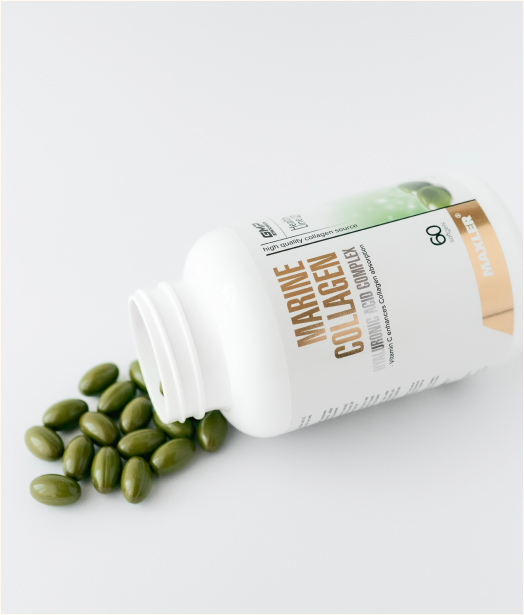 promotes young and beautiful skin
supports bone and joint health
speeds up skin healing
Among efficient skincare products collagen and hyaluronic acid stand out as particularly important. Due to their ability to retain moisture in the body, they help your skin remain supple and elastic for many years to come.
Marine Collagen + Hyaluronic Acid – combining forces
Each ingredient in Marine Collagen Skin Care plays a part in ensuring the skin stays supple and healthy. The duo:
Promotes young and beautiful skin;
Support bone and joint health;
Speed up skin healing.
Collagen helps the body combat age-related changes through moisturizing the skin, increasing its elasticity, reducing the appearance of fine lines and wrinkles and improving hair and nail structure. Hyaluronic acid complements the valuable properties of collagen thanks to its ability to efficiently restore and maintain the body's water balance at a cellular level. It affects both the deep and the superficial skin layers and encourages the body to produce its own collagen reserves.
Collagen is an essential protein that makes up the core of bones and skin. Addressing the lack of collagen and hyaluronic acid helps strengthen the connective tissue, which in its turn boosts bone density, ligament elasticity and joint mobility. Collagen prevents cartilage degeneration and thus provides all-round support to the musculoskeletal system.
The combination of collagen and hyaluronic acid possesses powerful healing properties that allow it to speed up skin regeneration and repair following its exposure to external stressors, such as exfoliative skin peeling, sunburns and mechanical facial cleansing.
Not only does the supplement efficiently address the lack of collagen and hyaluronic acid, but it also encourages the body to replenish its own reserves of these essential nutrients.