Health & beauty support in bioavailable form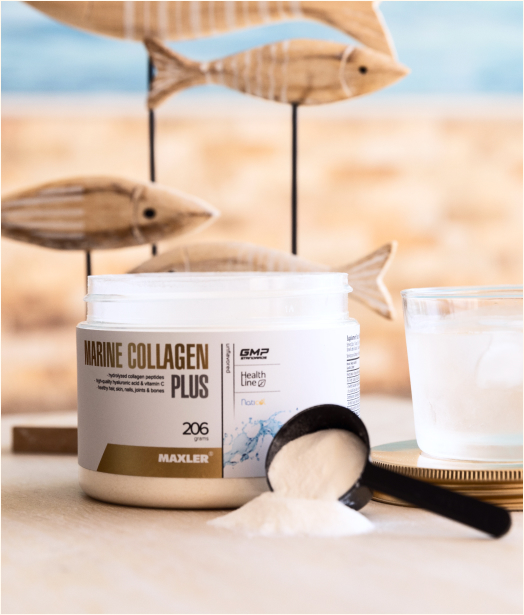 high-quality hyaluronic acid & vitamin C
promotes young and beautiful skin
supports bone and joint health
True beauty comes from within. Taking collagen is associated with a number of health benefits any person will appreciate. The body produces collagen naturally, but that ability diminishes with age. People who lead an active lifestyle, older adults and those who are looking to improve skin, hair and nails health can all benefit from Marine Collagen Plus.
Marine Collagen Plus combines the power of three active ingredients – marine collagen, vitamin C and hyaluronic acid to boost skin and joint health.
Adding collagen to your diet is definitely a plus
Hydrolyzed marine collagen is collagen obtained from fish, which can be easily absorbed as it has been broken into smaller parts. Marine collagens boosts your collagen-making processes and assists in repairing skin.
Hyaluronic acid complements the valuable properties of collagen thanks to its ability to efficiently restore and maintain the body's water balance at a cellular level. It affects both the deep and the superficial skin layers and encourages the body to produce its own collagen reserves.
Being the essential protein that makes up the core of bones and skin, collagen – paired with hyaluronic acid, helps strengthen the connective tissue, which in its turn boosts bone density, ligament elasticity and joint mobility. Collagen prevents cartilage degeneration and thus provides all-round support to the musculoskeletal system.