Fizz for a healthy skin and skeleton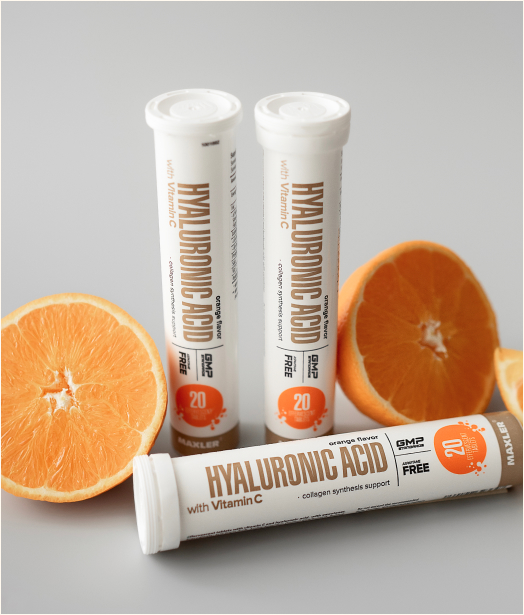 collagen-boosting formula
prevents bone loss
supple and beautiful skin
Some of the key aspects of staying young and feeling young is being able to move without pain and feel confident in your looks. This requires us to take good care of our joints, our skeleton, and our skin. Supporting their health means leading a healthy lifestyle, including plenty of nutrients useful for the body, exercising and getting sufficient sleep.
One of the nutrients that is key for our body is hyaluronic acid. This substance is gooey and exists in our skin and joints. It retains water very well, which is essential for cushioning in our joints. This property also helps it keep the skin hydrated.
Benefits for all
One of the key aspects of hyaluronic acid is its ability to support collagen production. Alongside hyaluronic acid, collagen production requires an additional helper, vitamin C. These effervescent tabs supply both nutrients, helping you boost your natural production of this important structural protein.
Other benefits of this formula include:
Hydrated and elastic skin – hyaluronic acid supports hydration, helping the skin look supple. This brings the added benefit of helping to make skin look smooth, as this can decrease the visibility of wrinkles. Vitamin C is also useful for supporting this process as it helps skin retain water.
Boosted healing – the acid and the vitamin help reduce inflammation and promote healing.
Easy movement – this molecule supports movement and can decrease the amount of pain that movement brings as it supports cushioning of joints.
Strong bones – vitamin C's role in collagen making is essential for strong bones, as they are built using collagen. Alongside that the hyaluronic acid may help slow down bone loss.
If you're looking to support a healthy skin and a healthy body, Maxler Hyaluronic Acid and Vitamin C. The collagen-boosting action of this combination carries with it other benefits while being easy to use.