A daily dose of vitamins - to boost your health up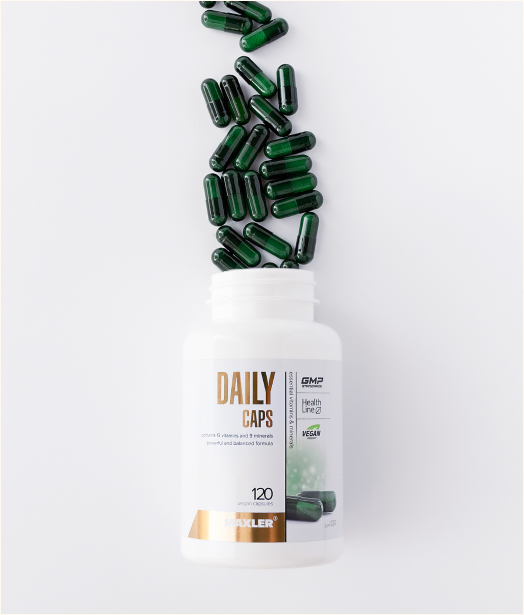 contains 13 vitamins and 9 minerals
powerful and balanced formula
with multienzyme complex
To maintain good health, people need to get enough vitamins and nutrients. A balanced diet serves as a natural source of these micronutrients. But when it comes to stressful situations, increased physical or mental activity – you need an additional source to keep up with all aspects of your life.
Taking vitamins and minerals in supplement form can be a great way to add needed vitamins to your diet. Enter Maxler Daily Caps.
What is so good about Maxler Daily Caps?
Daily Caps is a vitamin-mineral complex, made using a well-balanced formula for daily support of the body – hence the name.
Daily Caps provides a comprehensive effect on all body systems:
Enhances the immune system;
Has a good effect on the cardiovascular system;
Promotes healthy bones and teeth;
Maintains a healthy nervous system;
Helps to recover after physical exertion;
Has a fatigue-fighting effect;
Supports brain activity.
A complex of B vitamins, calcium, and magnesium together with antioxidants – Vit. C and E, act as blood pressure stabilizers and are fundamental to improving mental alertness. They help manage stress and support the nervous system so that you can keep your cool when it matters.
The so-called immunonutrients – Zinc, vitamins A, C, and D – are aimed at stimulating the body's natural defenses and increasing resistance to infection.
Bones and muscles can benefit in the long term if supplemented with enough calcium, magnesium, and vitamin D. Manganese is involved in collagen production and promotes healthy skin and bones.
Covered with chlorophyllin and with the multienzyme complex DigeZyme added, the softgel capsules guarantee perfect digestion.
Taking Daily Caps is a great way to obtain essential vitamins and minerals your body needs to better your overall health.