Boost energy and torch fat on your own terms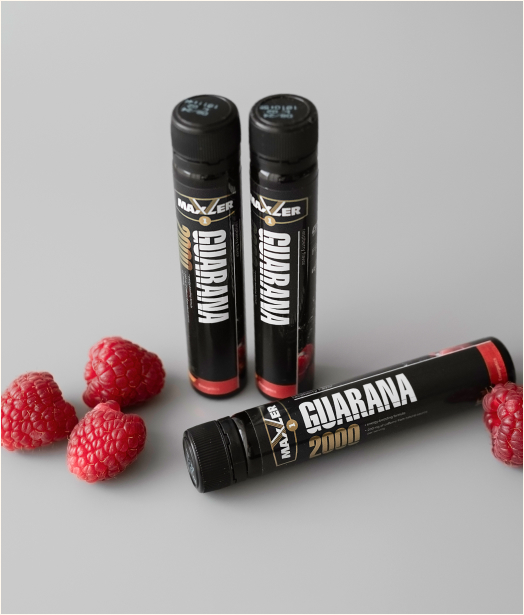 2000 mg of Guarana per serving
high in vitamins
supports performance and fights tiredness
We've packed all the benefits of guarana into Guarana 2000 Shots. This plant originates from Brazil, and when the seeds are dried and ground, we get guarana extract. The extract is rich in nutrients and antioxidants, and we've added some extra vitamins for extra benefits. The shots are easy to take on the go, helping you get a boost of energy or get more out of your workouts.
What can guarana do for you?
One of the properties of guarana extract is its high amount of stimulants. Naturally, present caffeine and theobromine, commonly found in chocolate, help to energize you at any point in the day.
These stimulants are also great for those trying to shed some pounds – they increase metabolism. Guarana can help turn on brown fat tissue, which is a special type of fat that becomes active as we get cold. This tissue may be able to help us burn more calories, which can aid weight loss.
The plant extract is also full of antioxidants, like those that can be found in green tea. They help your cells deal with free radicals. On top of it, it supports focus, helps you fight tiredness, and can even help you learn better.
One shot closer to your goals
We know that your time is precious, so with Guarana 2000 Shots, there's no need to worry about making it home before a workout to get some extra energy. Whether you're in meetings all day, traveling, or your plans changed, pushing your training to a different time, you'll always be supercharged with the shots.
So, for those looking for an extra jolt of energy or those needing some help to shed pounds, Guarana 2000 Shots is a great option. The B-group vitamins support normal energy release, while the caffeine kickstarts fat burn and fights tiredness. On top of that, vitamin C can help with burning more fat during exercise.
For the busy and the sporty, Guarana 2000 Shots is an easy way to get where you need to go!