Non-essential amino acid for improved performance and recovery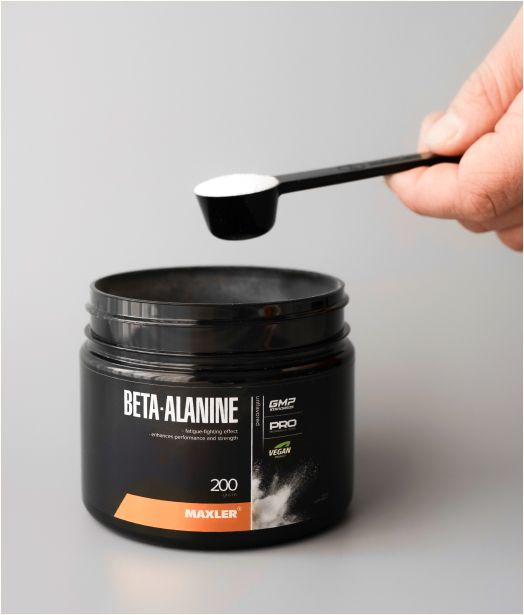 promotes workout endurance
increases strength and muscle mass
improves body composition
When you exercise for a long time, your muscles become fatigued and the so-called acidification takes place. The moment of fatigue will happen in any case, but there is a way, or rather a substance that can delay it.
Beta-alanine and its sources
Beta alanine is a non-essential beta-amino acid. The body naturally produces it and makes enough of it for day-to-day life. Athletes take special interest in speeding this process up. You can either consume beta-alanine rich foods or take this amino-acid directly from a supplement. Beta-alanine rich foods include beef, chicken, turkey and fish.
Beta-alanine for better athletic performance
The main benefit of beta-alanine is to form – together with histidine – a complex called carnosine. It is carnosine that can regulate the pH, thus reducing the "muscle acidification". The more you train the more carnosine you need. Beta-Alanine powder provides the body with an optimal beta-alanine dose in just one serving resulting in more carnosine for better work-outs. Carnosine improves endurance, especially in high-intensity exercises. This allows you to train longer and harder, to do more repetitions or more sets. In addition, Beta-Alanine powder can help to increase endurance during resistance training. As a result, the product can also help build muscle mass.
With all of the above benefits combined Beta-Alanine Powder can become both professional and casual athlete's trusted companion.