Fizzy immunity aid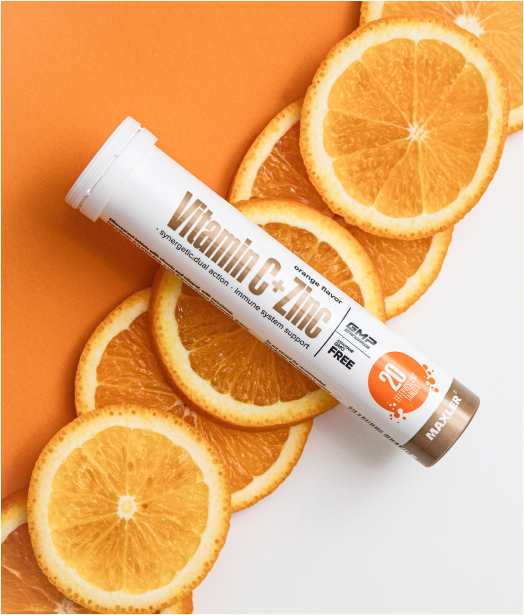 immune system support
synergistic double effect
antioxidant properties
Vitamin C + Zinc is a versatile combination of two of the most effective immuno-nutrients in one complex that provides maximum protection for the immune system. This powerful combination can help prevent colds and viral infections, assist in their treatment and aid in recovery after.
Vitamin C power
Vitamin C is considered one of the most essential vitamins for preserving the sound health and youth of the human body. It plays an important role in the prompt triggering of immune responses, provides all-round support to the cardiovascular system and serves as the key to healthy teeth. Being a powerful antioxidant, vitamin C helps the body to fight the harmful effects of free radicals, hindering cell aging and destruction. Vitamin C promotes collagen synthesis, helps improve bones, joints and skin health.
Zinc power
Zinc is an essential mineral that provides all-round support to the body, particularly to the immune system. This mineral boosts synthesis of T-lymphocytes – cells that are responsible for the immunity. Sufficient amount of zinc in the body ensures airways protection and promotes faster recovery. This mineral has antioxidative and antibacterial properties, and its anti-inflammatory action aids wound healing and promotes healthy skin.
Why combine them?
In times of stress both vitamin C and zinc deplete fast and the immune system suffers. Double power of zinc and vitamin C boosts the immune system and fights against inflammation and free radicals.
Vitamin C + Zinc is an ideal supplement to support your health. In addition, these effervescent tablets have an amazing orange flavor that everyone will love!