Recovering quickly with BCAAs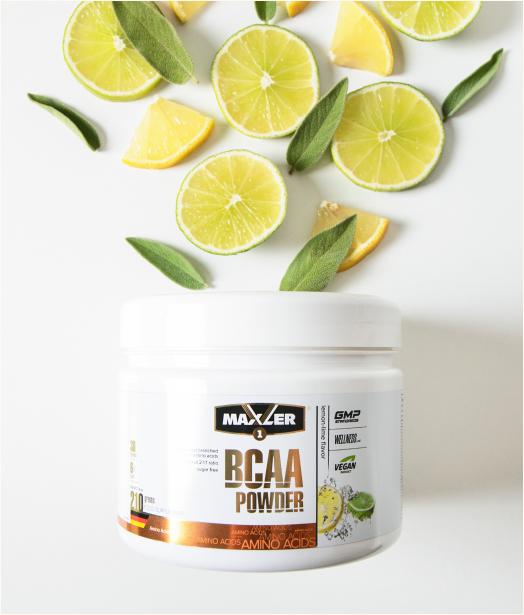 optimal 2:1:1 ratio
helps prevent muscle breakdown
increases lean muscle mass
Branched-chain amino acids – we can't make the three amino acids ourselves, so we must obtain them from the foods we consume. We process them differently than other amino acids. Instead of being taken into the liver, they enter muscle cells directly and get used as they are.
We are constantly degrading muscle and building it back up, however, when we exercise, we speed up the first process. To ensure we're synthesizing muscle, the body requires the correct building blocks. BCAAs are perfect for this purpose, as they can boost muscle-building processes and tone down those that break them down.
Leucine activates processes that kickstart muscle building and makes new mitochondria, which generate cellular energy. Valine and isoleucine play a slightly different roles, helping our cells take in glucose from the blood.
BCAAs promote recovery from a workout. They tend to decrease feelings of soreness, but also combat inflammation and immune reactions to muscle damage.
What's so good about Maxler BCAA Powder?
BCAAs are versatile and involved in many processes. Some of their beneficial effects include:
Help to stay strong and keep muscle mass on if you're eating less than usual;
Improve recovery after strengthening exercises;
Help to decrease the damage endurance exercise causes to muscles;
Decrease feelings of tiredness;
Make it easier to lose weight and help burn fat.
For those who would like to grow muscle or shed some pounds without compromising their current physique, BCAAs can be a goldmine. BCAA Powder is also great for those who don't consume sufficient protein or those who prefer fasted exercise.