Neutral solution for immune support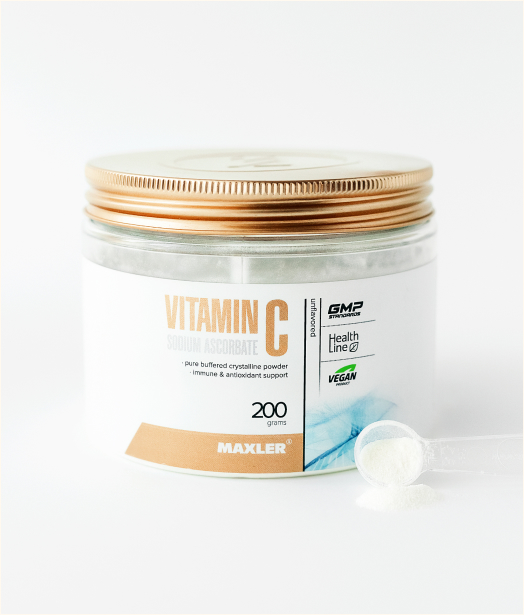 boosts the body's natural defenses
cardiovascular health assistance
smooth absorption
Vitamin C is considered one of the most essential vitamins for preserving the sound health and youth of the human body, and deservedly so. It plays an important role in the prompt triggering of immune responses, provides all-round support to the cardiovascular system and serves as the key to healthy teeth.
Being a powerful antioxidant, vitamin C helps the body to fight the harmful effects of free radicals, hindering cell aging and destruction. Vitamin C promotes collagen synthesis, helps improve bones, joints and skin health.
Where to find this miraculous vitamin?
Vitamin C can be found in a number of plant products such as fresh vegetables and fruit, especially citruses. Its intake becomes particularly important during the flu season when it is crucial to put the body's natural defenses on full alert. Dietary supplements that are high in Vitamin C serve as an efficient way to quickly address the lack of this essential vitamin.
Obvious benefits of vitamin C
Sufficient amounts of vitamin C have many beneficial effects on different parts of the body:
Boosts the body's natural defenses;
Supports cardiovascular health;
Promotes healthy teeth.
Vitamin C speeds up the regeneration of damaged cells and hinders inflammatory processes. Vitamin C has proved its efficiency not only in preventing, but also in relieving the symptoms of common colds. It soothes the discomfort caused by cold-related headaches, fatigue, muscle aches and fever and speeds up recovery. This makes Vitamin C an invaluable ally to your immune system throughout the flu season.
This supplement may help regulate blood circulation and prevents blood clots. It also might strengthen blood vessels and effectively filters out extra cholesterol from the body, thus providing all-round support to the cardiovascular and the circulatory system.
Vitamin C facilitates the absorption of calcium that serves as a key component of tooth enamel. A regular intake of Vitamin C strengthens the teeth and provides an efficient relief of many gum-related issues. For this reason, Vitamin C is essential for healthy teeth.