A supercharged formula that cares for joints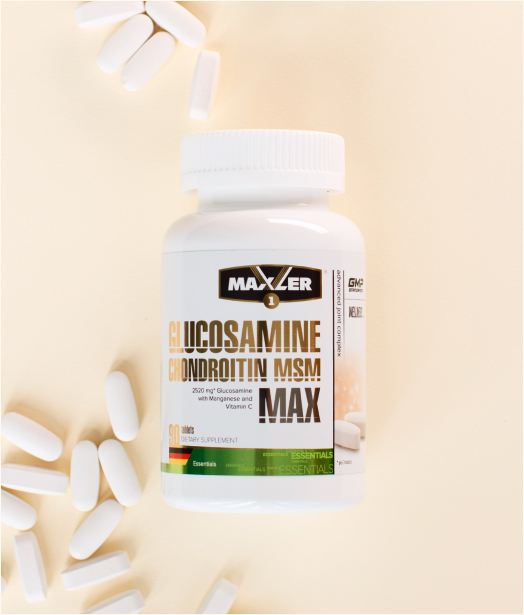 supports bone and joint health
helps fight pain and inflammation
speeds up post-injury recovery
Those that lead an active lifestyle know how important it is to move. Movement allows us to do the things we enjoy doing, so we stretch, work on flexibility and build muscle strength. However, few of us know how to best support our joints from within. Maxler Glucosamine Chondroitin MSM Max is a powerful formula designed to support joint health from every angle.
A combination of powerful ingredients
This powerful formula contains glucosamine. This compound is a sugar that our body naturally makes, and its main job is to maintain our cartilage. It can help decrease inflammation and relieve pain. Glucosamine is often paired with chondroitin. Chondroitin acts like a sponge in our cartilage, cushioning it during activity and retaining water to ensure that the cartilage is elastic.
MSM is a compound called methylsulfonylmethane. It is found in certain foods, like coffee, meat, and cereals. It is a potent fighter of inflammation and helps to decrease pain. Manganese is a mineral present in this formula that is similarly useful for decreasing inflammation. It also helps keep bones strong.
Maxler Glucosamine Chondroitin MSM Max is a powerful mix of great quality active ingredients for healthy joints. It combines three of the most powerful compounds that help support joint health with additional compounds like bromelain, manganese, and vitamin C. Each of these plays a particular role in ensuring that your joints remain strong and you can keep moving without pain.