Keep calm and reach your goals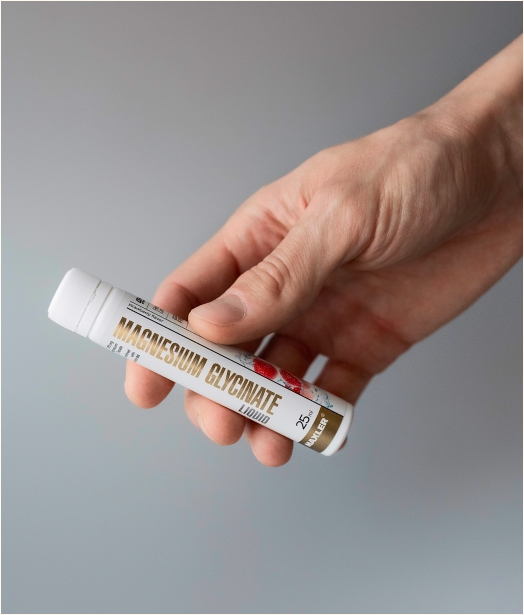 supports nervous system
bone and muscle health
high bioavailability
To maintain good health, a person needs to get enough vitamins and nutrients. With proper nutrition, all necessary substances are automatically replenished, including the essential mineral magnesium. It supports the vital functions of every cell. First and foremost, the muscular, nervous and cardiovascular systems. Magnesium is also important for the skeletal system, as more than half of it is found in the bones.
Food sources and functions of magnesium
Magnesium is found in foods such as cocoa beans, avocados, almonds, pumpkin seeds, sesame seeds, seafood, etc. A normal intake of magnesium allows you to better cope with emotional stress and physical exertion. If dietary sources of magnesium are insufficient, taking a supplement can be a great way to add this mineral to your diet.
In the body, magnesium serves many purposes:
Regulates blood sugar levels;
Regulates the menstrual cycle;
Maintains normal blood pressure and heart rhythm;
Has beneficial effects on bone growth and joint health;
Normalizes sleep;
Helps cope with muscle spasms due to physical exertion.
Magnesium is involved in the transmission of electrical impulses, which ensure the contraction of muscles, including the heart muscle. Transmission of nerve impulses is also impossible without magnesium. This is how it helps us cope with stress, and also acts as a relaxant. As a basic intracellular element, magnesium activates enzymes that regulate carbohydrate metabolism and stimulate protein formation.
Magnesium Glycinate Liquid contains magnesium bisglycinate chelate, which has the highest bioavailability among the forms of magnesium, and vitamin B6 in the product enhances the effect of the mineral. As a bonus, the supplement has an amazing strawberry flavor that everyone will love!