Keeping energized and shedding pounds with guarana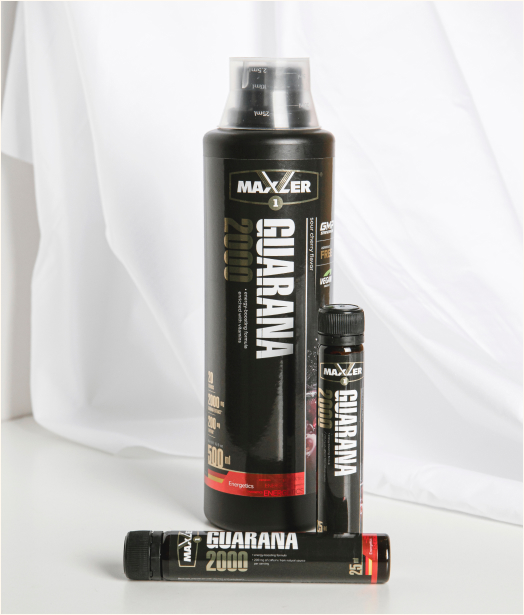 2000 mg of Guarana per serving
enriched with vitamins
increases endurance and performance
Guarana is a Brazilian plant, which is known for its fruits. Its seeds are dried and ground into powder, which is then used to make guarana extract. Guarana 2000 is a drink that has a variety of benefits arising from pairing this exceptional fruit with vitamins.
What are the benefits of guarana?
On its own, guarana is a potent stimulant, as it naturally contains caffeine and theobromine. Theobromine is a bitter-tasting substance that is often found in chocolate, and it has energizing effects. It's no wonder then, that guarana is great at making you feel less tired.
Guarana is a potent aid for those looking to lose weight. Its natural caffeine boosts weight loss, increasing metabolism. It can help turn on brown fat tissue, which is a special type of fat that becomes active as we get cold. This tissue may be able to help us burn more calories, which can aid weight loss.
Guarana is also full of antioxidants, like those that can be found in green tea. These can help protect our cells from damage by free radicals. Guarana is also a great mental aid, helping to improve focus, feel less tired, and learn better.
Using Guarana 2000 to reach your goals
If you're someone who would like to feel less tired before a workout or to work out for longer, Guarana 2000 can help keep tiredness at bay. Vitamins B1, B5, and B6, help with releasing energy from our food, keeping us energized as we work out.
If you're looking to lose weight, Guarana 2000 can combine the power of caffeine and the same B vitamins to increase your metabolism, helping you burn more calories. On top of that, vitamin C can help with burning more fat during exercise.
Therefore, to help you feel your best and achieve your goals, Maxler Guarana 2000 uses the power of natural guarana in combination with vitamins known to improve performance and help with weight loss.