A key mineral for overall health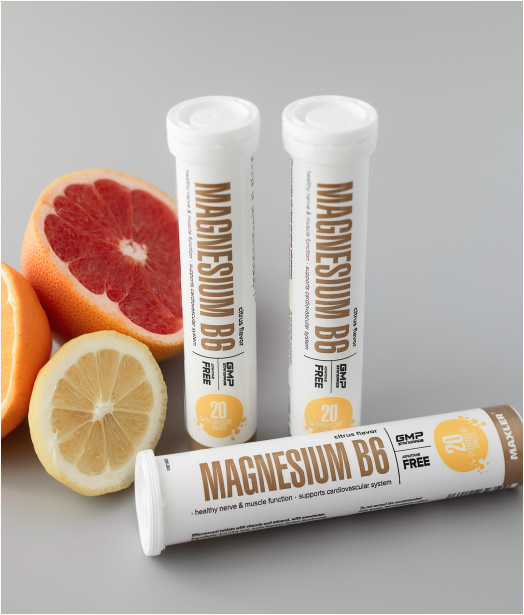 сardiovascular and musculoskeletal support
both micronutrients boost each other's bioavailability
better mood, better sleep
What do we need for a healthy body? From a great exercise regimen to plenty of sleep, our bodies need to be taken care of. One of the key aspects of care and health support remains nutrition. There are key micronutrients that we must ensure to get enough of, like magnesium and vitamin B6.
This combination plays important roles in our cells. Magnesium is an important part of our cellular activity, as it helps run over 600 reactions in the body. Vitamin B6 on the other hand, supports energy release, immunity and brain health.
Powerful duet for overall health
What happens when we combine the two? It turns out that vitamin B6 is great at helping our body take up magnesium. The combination of the two nutrients therefore increases each other's bioavailability and efficacy.
Together, they work to take care of multiple body systems. They support cardiovascular health through helping maintain a healthy blood pressure and keeping healthy levels of fats in the blood. They help manage blood sugar and make us more sensitive to insulin. Alongside that, the two are anti-inflammatory, helping our body fight oxidative stress.
Magnesium and B6 offer great support to the brain and nervous system as well. They help us control mood and take on stress. They also promote restful sleep through increasing levels of GABA, which is a neurotransmitter that helps us relax.
Maxler Magnesium B6 Effervescent is an easy way to supply your body with these key micronutrients for optimal health. The tabs are easy to take, have great citrusy flavors and are low in sugars.