Provide for your body's needs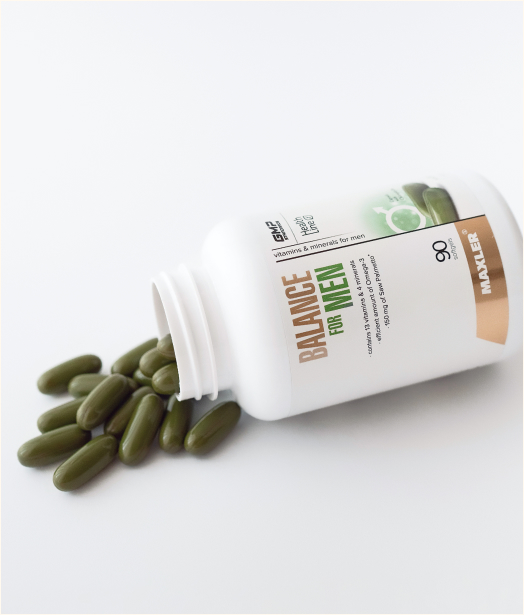 boosts the body's natural defenses
contains Omega-3 and plant extracts
natural chlorophyllin coating
A balanced diet serves as the key to a man's health, energy and emotional well-being. A regular intake of necessary vitamins, minerals and nutrients plays a particularly important role in preserving health, youth and strength. The body does not produce vitamins and minerals, so they need to be an essential part of the daily diet.
What is so good about Maxler Balance for Men?
Balance for Men contains 13 vitamins and 4 essential minerals in their most easily absorbed forms to support your health from top to bottom.
Balance for Men provides a comprehensive effect on all body systems:
Might strengthen the immune system;
Helps preserve men's health;
Supports physical activity;
Helps maintain healthy nervous system;
Promotes healthy cardiovascular and bone system.
Balance for Men contains a complex of vitamins and minerals which strengthen the immune system and boost the body's natural defenses. Each serving also contains an efficient amount of Omega-3 fatty acids that serve as a powerful antioxidant and promote cardiovascular health. The active ingredients of the supplement protect the body against viruses and infections, get rid of toxins and slow down inflammatory processes, thus helping you always keep in top shape.
Balance for Men places special emphasis on the vitamins and nutrients that are essential for men's health, such as zinc and saw palmetto extract. Each capsule contains an efficient amount of 100% natural saw palmetto that supports prostate health and prevents hair loss. The combined effect of zinc and saw palmetto naturally boosts testosterone levels, which plays a key role in men's health.
The supplement is enriched with grape seed extract, lutein and choline, which significantly increase productivity, boost memory and concentration. The active ingredients of Balance for Men increase stamina, support physical activity and help the body easily cope with any strain.