Supporting overall health, plant-based style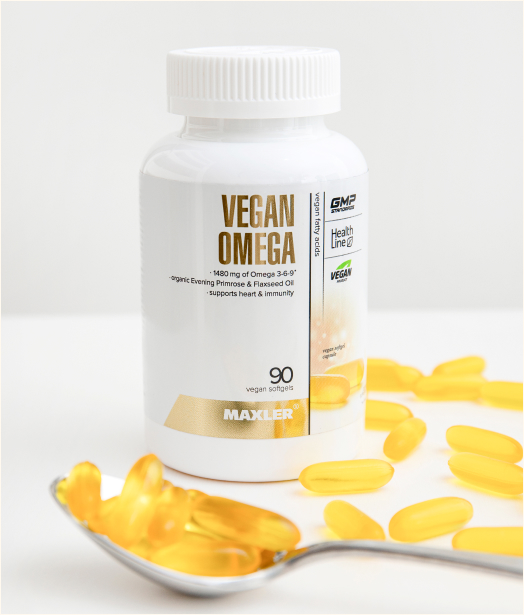 1480 mg of Omega-3-6-9
organic Evening Primrose & Flaxseed Oil
supports heart & immunity
There are two main different types of fats, saturated and unsaturated fats. Both are important for our health in appropriate amounts. The unsaturated fats can be further divided into mono and polyunsaturated fats. They differ in the amount of double bonds their chemical structures have. These double bonds make the fats more flexible.
These fats are naturally present in seed oils, like flaxseed and primrose oil. Maxler Vegan Omega harvests the benefits of the omegas in these oils to bring you a powerful supplement which contains 1480 mg of the three omegas in total.
Benefits for the whole body
Omega fatty acids are a group of polyunsaturated fatty acids. The most famous ones of the group are omega-3s – they play a key role in supporting our overall health. These omegas help decrease inflammation, hydrate the skin, keep our cardiovascular system in great shape and even prevent eyesight problems with age!
Alongside these, there are omega-6s and omega-9s. Omega-6s can be used as fuel by our cells. They also support our immunity. A certain omega-6, gamma-linoleic acid, found in primrose oil also helps support skin health and can keep the heart healthy. Omega-9s helps us control blood sugar.
Maxler Vegan Omega is a vegan supplement that ensures you get all the benefits of the omegas, helping you lead an active and healthy lifestyle.