Maximum hydration with extra benefits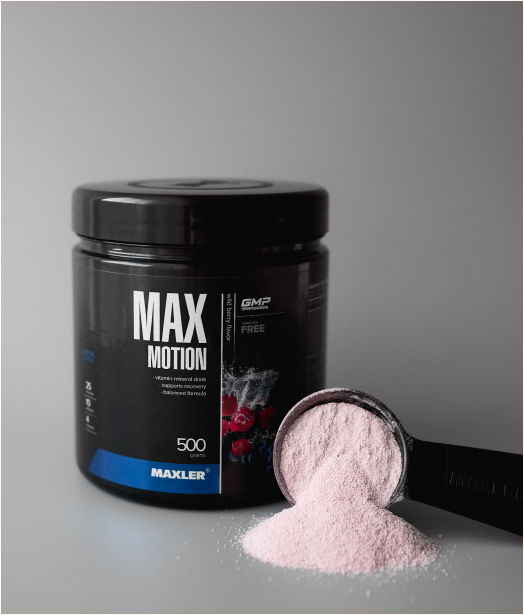 serve as an isotonic drink
promotes recovery after workout
Staying adequately hydrated is a challenge everyone who plays a sport or exercises faces. Hydration is essential – losing as little as 1.5% of your body weight will negatively affect performance. Therefore, it's important to replenish the water we lose as we sweat during exercise.
However, we don't only lose water with sweat – we lose minerals like potassium, calcium, sodium, and magnesium, and vitamins, especially water-soluble ones, like vitamin C. It's therefore important to replenish them during and after exercise.
To do that, people usually rely on isotonic drinks – drinks that contain water, carbohydrates, vitamins, and minerals in a proper concentration.
Max Motion – supporting your efforts
Max Motion powder contains ingredients to ensure it makes an isotonic drink that not only rehydrates you properly, but also helps you feel good during and after exercise. The nutrients that it provides are:
Carbohydrates – necessary to provide you with quick energy and help you replenish glycogen, which is the fuel your muscles prioritize in using.
Vitamin C – one of the vitamins you may lose most of through sweat, it assists in recovery and with fighting against oxidative damage induced by exercise.
Vitamin E – an overlooked vitamin- helps repair skeletal muscle and decrease lipid peroxidation, which is when free radicals damage lipids in cell membranes.
Vitamins B1, B2, and B6 – these are key for producing energy, and you need more of them when you exercise.
Minerals like calcium are important for muscle contractions and nerve signaling.
Max Motion powder is designed to create an isotonic drink that supports your body throughout exercise and recovery. Its light and fruity flavors as well as a balanced nutrient profile are designed for quick absorption with maximum benefits.