Improving skin health from within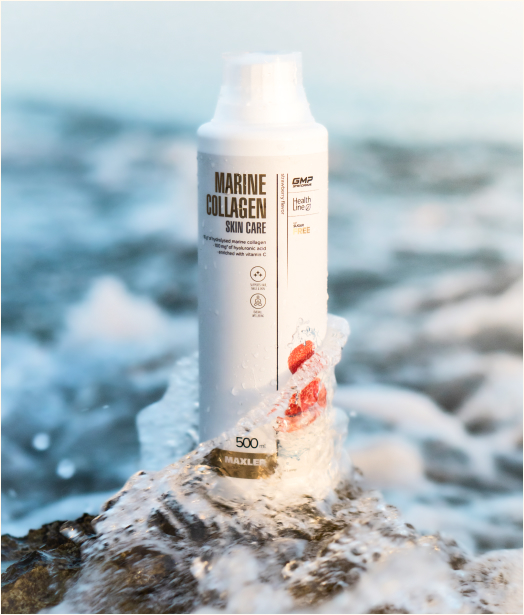 supports skin elasticity and firmness
increases skin hydration
has antioxidant function
Keeping our skin supple and youthful looking requires a combination of a healthy diet, exercise, and skincare. We also need to protect the skin from harmful compounds found in the environment, like UV rays. We need to provide our skin with specific nutrients that it can benefit from.
Collagen is vital for skin and ligament health, acting like a scaffold and providing support to the skin. However, as we get older, we don't make as much collagen. This can contribute to wrinkles.
Marine Collagen Skin Care combines the power of three active ingredients – marine collagen, vitamin C, and hyaluronic acid to boost skin health and make it elastic.
Marine Collagen Skin Care – combining forces
Each ingredient in Marine Collagen Skin Care plays a part in ensuring the skin stays supple and healthy.
Hydrolyzed marine collagen is collagen obtained from fish, which can be easily absorbed as it has been broken into smaller parts. Marine collagens boost your collagen-making processes and assist in repairing skin. The result? A thicker and more elastic skin.
Our body naturally makes hyaluronic acid. It helps to retain water in our skin and lubricates our joints for smooth movement. Its ability to retain moisture helps with wrinkle-free skin. Vitamin C is a great skin vitamin. It helps in the processes that make collagen and prevents dryness. As an antioxidant, it protects the skin from damage done by pollutants. It also helps wounds heal.
Therefore, Marine Collagen Skin Care is a formula designed to support supple-looking skin and combat the signs of aging. The high quality of the active ingredients and the hydrolyzed collagen ensure your body is absorbing as much goodness from the formula as it can. This mango or strawberry drink is a great supplement to a balanced lifestyle.