Arginine AAKG explained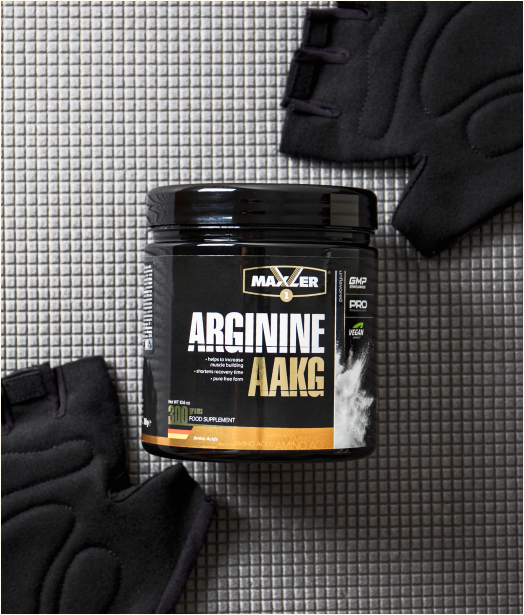 increases strength and stamina
promotes vascularity
quick recovery
Arginine AAKG (Arginine Alpha-Ketoglutarate) is a salt of the amino acid Arginine combined with Alpha-Ketoglutaric Acid. L-arginine is an amino acid that is used to build protein and stimulate creatine and nitric oxide production. Nitric oxide can dilate blood vessels. Combined with Alpha-Ketoglutaric Acid Arginine multiplies its action several times.
Pump it up with Arginine AAKG
Arginine AAKG is a functional workout supplement, as it:
Promotes increased nitric oxide production;
Gives extensive muscle pump effect;
Aids recovery.
Arginine AAKG helps to increase power output by helping the nutrients and oxygen reach muscles more easily. It is achieved through vascular dilation. The blood channels become wider, therefore allowing for more blood to flow through muscle tissue. This whole process is triggered by nitric oxide – a signaling molecule. Increased glucose uptake and muscle velocity are among the benefits as well.
The growth hormone production is also stimulated by Arginine AAKG. This hormone is a chemical that aids in muscle growth and metabolism.
As you train, lactic acid builds up along with ammonia, bringing up muscle soreness and delaying recovery. Arginine AAKG alleviates muscle pain and allows you to recover better between sessions.
Provide yourself with enough nitric oxide and enjoy the increased effectiveness of high-intensity training, an extra boost of strength, and faster recovery.