Promote good health with D3+K2 Vitamin Complex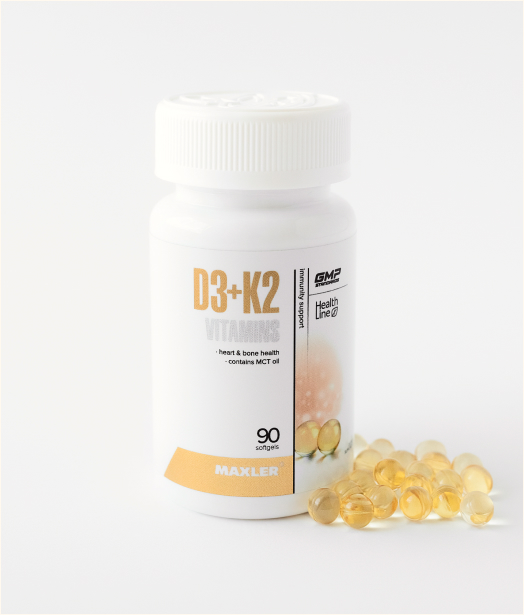 2400 IU / 120 µg per serving
supports heart & bone health
contains MCT Oil
To maintain good health, people need to get enough vitamins and nutrients. With proper nutrition, all the necessary substances are replenished automatically, including the essential vitamins D and K. The first one comes from oily fish and egg yolks, and is produced by the body in sunlight. The second can be found in chicken, pork, beef, cheese, milk and egg yolks, and it is important that the products come from grass-fed animals. Barriers to implementing good nutrition in practice are, for example, seasonality of foods, particularly fruits and vegetables, high employment, special nutritional needs such as special diets or allergies, and many other factors. Taking vitamins D3 + K2 in supplement form can be a great way to add needed vitamins to your diet. Enter Maxler D3+K2 Vitamin Complex.
What is so good about Maxler D3+K2 Vitamin Complex?
The Vitamin Complex is an easily digestible form of vitamins D3 and K2. The combination of these two vitamins has positive effects on all systems of the body, so the Complex:
Is a calcium absorption essential agent;
Contributes to bone tissue strengthening;
Beneficial for teeth;
Helps preserve heart and blood vessels health.
This highly effective complex is made using MCT oil, which is a source of fatty acids necessary for the functioning of all body systems. It is the most useful type of fatty acids that are involved in metabolic processes, preserving youth and beauty.
Vitamin D3 helps the body to better absorb calcium and phosphorus. Adequate amount of those minerals ensures that your teeth stay strong, and bones and muscles stay in top shape. In addition, this sunny vitamin helps the immune system perform its protective functions and promotes muscle tissue growth.
For vitamin D to do its job properly, it needs vitamin K. Calcium tends to deposit on the walls of blood vessels, reducing their permeability. Vitamin K2 ensures that the released calcium gets where it needs to go – into muscle and bone cells. The latter keeps the heart healthy. To top it off, a bioavailable form of the active ingredients is used, allowing for maximum benefit.
Maxler D3+K2 Vitamin Complex is a perfect supplement for people living an active lifestyle, for those who want to add the required amount of vitamins to their everyday routine.