A vitamin to support overall health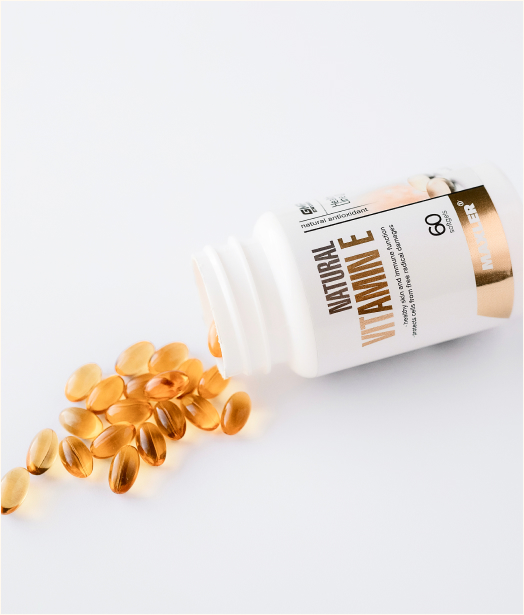 natural form of Vitamin E
protects cells from free radical damages
healthy skin and immune function
Vitamins and minerals help our bodies work the best that they can. Those that lead an active lifestyle know the importance of getting proper micronutrients. Vitamin E is one of the vitamins you need to get enough of. It is an antioxidant vitamin, meaning that its chemical structure allows it to capture free radicals. If not taken care of, free radicals can damage cell structure and our DNA.
The antioxidant activity of this vitamin helps prevent oxidative stress in the body, helping fight ageing and protecting from disease.
Benefits for the whole body
It's no surprise then, that this vitamin can support almost all aspects of health. This vitamin is great at helping you control blood pressure and fat levels in the blood, especially when paired with omega-3s. Overall, the vitamin can help maintain heart health.
Vitamin E is also an immunity helper. It boosts our body's abilities to fight infection. It can directly influence our T-cells, which can attack pathogens or support other cells in their fight against an illness.
Finally, it can benefit eyesight when combined with vitamin C, zinc, and beta-carotene.
Maxler Natural Vitamin E is a supplement for those who wish to support their body. The natural form of vitamin E makes this supplement effective and easily absorbed, meaning that you can be sure you'll feel the benefits of this formula.