Provide for your body's needs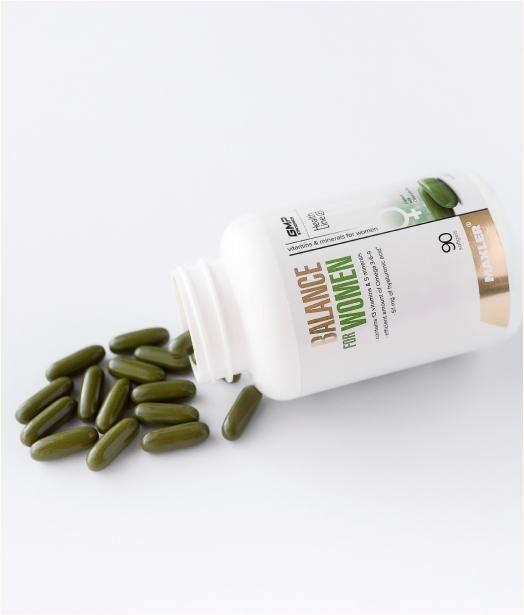 boosts the body's natural defenses
contains hyaluronic acid
natural chlorophyllin coating
A balanced diet serves as the key to a woman's health, youth and beauty. A regular intake of necessary vitamins, minerals and nutrients plays an extremely important role in maintaining good general health and promoting beautiful young skin, hair and nails. The body does not produce vitamins and minerals, so they need to be an essential part of the daily diet.
What is so good about Maxler Balance for Women?
Balance for Women contains 13 vitamins and 5 essential minerals in their most easily absorbed forms to support your health from top to bottom. It provides a comprehensive effect on all body systems:
Strengthens the immune system;
Helps preserve women's health;
Supports physical activity;
Helps maintain healthy nervous system;
Promotes healthy cardiovascular and bone system;
Helps preserve youth and beauty.
Balance for Women contains a complex of vitamins and minerals which strengthen the immune system and boost the body's natural defenses. Each serving also contains an efficient amount of Omega 3-6-9 fatty acids that serve as a powerful antioxidant and promote cardiovascular health. The active ingredients of the supplement protect the body against viruses and infections, get rid of toxins and slow down inflammatory processes, thus helping you always keep in top shape.
The combination of the valuable properties of vitamins, minerals and nutrients allows Balance for Women to efficiently combat age-related changes and prolong the youth of the female body. One of the most essential ingredients of the supplement is 100% natural hyaluronic acid that serves as the key to an elastic and supple skin. It perfectly restores and maintains the body's water balance on a cellular level, which moisturizes the skin and reduces the appearance of fine lines and wrinkles. Each capsule also contains soy isoflavones that are often referred to as natural phytoestrogens due to their key role in supporting women's health and maintaining hormonal balance. Maxler's perfect combination of the natural ingredients would become a guarantee of your beauty, youth and well-being.